LOS MEJORES MOMENTOS DE BLAIR & CHUCK
Sabemos que Blair no era Blair Waldorf sin Chuck Bass, queremos recordar sus mejores momentos en una de nuestras series favoritas. BTW todavía extrañamos la serie!!
The beginning. La noche en que la chispa se convirtió en llama!
Feelings you can't deny. Cuando Chuck se da cuenta de que empieza a sentir algo por Blair
All I really need. Lo único que necesitaba Blair era oír esas 3 palabras!!
I can't believe this is happening. Cuando finalmente Chuck dice las 3 palabras todas lo amamos todavía más!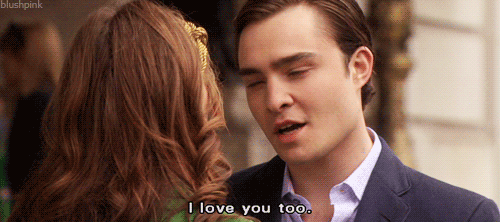 I Will Always Love You. Blair siempre fue clara con sus sentimientos
Can't get you off my mind. Blair no podía negar que quería estar con él
Tell me this is real. Si esto no es real déjame ir!
Consumig love. Cuando el amor es tan grande que te consume
Destiny. Cuando esperas que el destino haga su parte
Is it too late now to say sorry?
I love you more every day. Para Blair nunca fue difícil decir esas 3 words 8 letters
Great Love. Cuando sabes que el amor es más grande que cualquier otra cosa
You can't run from love. Blair siempre tuvo claros sus sentimientos y sus ganas de luchar por su amor
Happy Ending. El final que todos esperábamos!